The Aussie Pavlova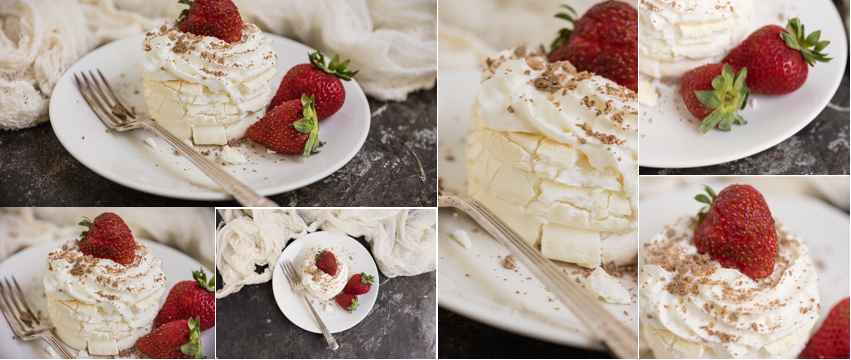 The Aussie Pavlova
For decades there has been a dispute about who first invented the Pavlova, whether it is Australian or from New Zealand. It was named after and created for Russian Ballerina Anna Pavlova who visited both countries in the 1920s. Made from egg whites and sugar and topped with fresh whipped cream and fruit, or sprinkled with chocolate, it is a long time favourite of Summer and for Special Occasions, in BOTH Countries. I am sure the debate will live on as friendly rivalry between the two countries continues. I am an Aussie through and through, but I must admit New Zealand holds a very special place in my heart.
This is my Husband's all time favourite dessert and it gets brought out every Christmas, however I must confess to being totally lazy these days and I buy my Pavlova bases ready made and just dress them.
Camera Settings - Sony a7ii, 50mm lens, ISO100, F/2.8 - F/3.5
On a side note...
If you are using fresh Pavlova, cream and strawberries you need to work quick, even in natural light. Keep the cream and strawberries in the fridge until the very last minute. Even try rinsing the strawberries in cold water and shaking off excess to keep them looking fresh.
Alternatively if this was for a Commercial shoot, you could swap the dressed Pavlova often for spares, or dress with shaving cream which lasts longer on top of a cardboard circle on top of the Pavlova. Attach strawberries with toothpicks. It is possible it may look better in print, but I would not recommend eating it. This is where the food photography term Usage or Wastage comes into it.
I still believe, if you are quick and prepared you can still get amazing photos with REAL food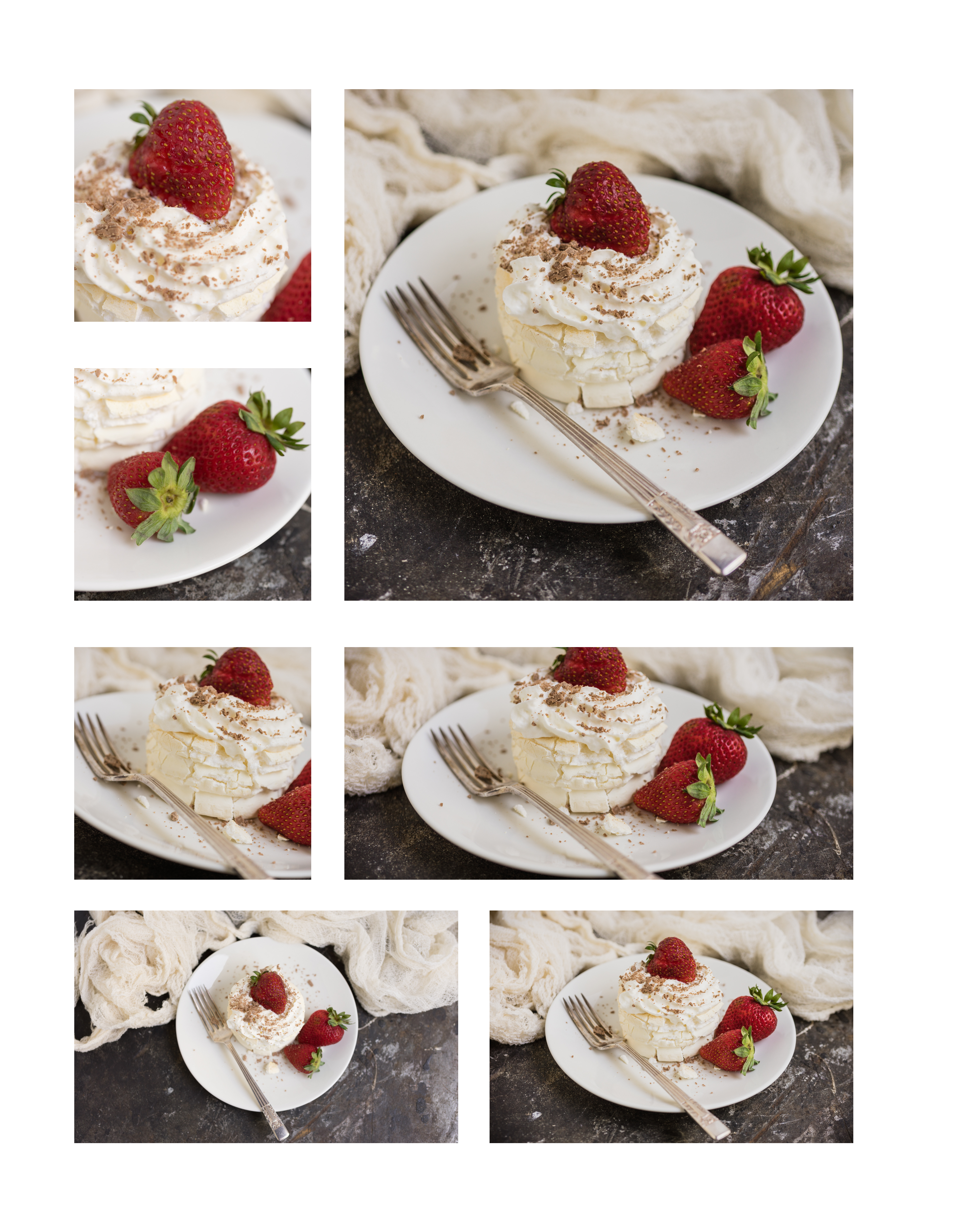 Pavlova Base Recipe
Ingredients
6 Egg whites
1 1/4 cup caster sugar
2 teaspoons cornflour
1 teaspoon lemon juice
1/2 teaspoon vanilla extract
Method
Preheat oven to 150C, line oven tray with foil and brush with butter and dust with cornflour, make a circle approx 20cm on the foil
Using an electric mixer (or whisk by hand if you want a work out) whisk egg whites in a clean dry bowl until soft peaks forms.
Gradually add sugar and beat until sugar is dissolved and the meringue is thick and glossy.
Add cornflour, lemon juice and vanilla and whisk until combined.
Now spoon the meringue onto the foil, using the circle as marked above. (You could do slightly smaller ones for individual serves about 5 cm diameter and cook for 15 - 20 minutes)
Smooth the top and sides with a spoon.
Bake in oven for 1 hour, cool on oven rack
Serving suggestions
Cover with fresh whipped cream and then fruit, of sprinkle with chocolate or both. Strawberries and passionfruit are a big hit
Don't forget to share you images with other's in the Facebook Group, and I would love you feedback on each class as well.
Complete and Continue